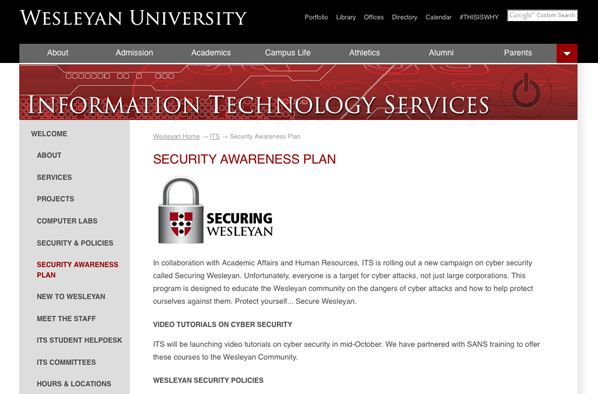 October is National Cyber Security Month, and ITS is doing its part by rolling out a new campaign called Securing Wesleyan. Throughout the month of October, we will share tips and reminders on how to be safe from cyber attacks, as well as how you can learn to best protect yourself on the web.
Mid-October, we will be launching video tutorials on cyber security. These tutorials from the SANS Institute's Securing the Human will feature a variety of informational videos that can be viewed in about half an hour. If you complete the video tutorials by December 15th, you will be entered into a raffle for an iPad Air.
Another step we are taking to address cyber security is our data security tool, Identity Finder. This scans personal computers and servers for personally identifiable information, or PII. ITS is currently installing Identity Finder on computers that process sensitive information, to better prepare end users with an understanding of what is on their computer, and what should be either removed or placed on secure servers.
To ensure your security online, be sure that you are running the latest update of security software. Make sure your passwords are strong and use letters, numbers, as well as symbols. Do not give out your passwords to anyone, and store a copy of them on paper in a safe location. Also, be wary of emails or links that try to solicit your personal information. To get more of these tips and tricks throughout the month, be sure to follow Wesleyan ITS on Facebook and Twitter! 
ITS is committed to ensuring that the Wesleyan community is prepared and protected from cyber attacks. Participate in Securing Wesleyan this month by learning about cyber security, taking steps to protect yourself, and spreading the word!